Idea Coming Soon - Icon‧Design‧wEb‧mediA
Creative Style IDEA = CSIDEA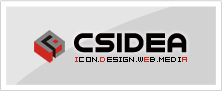 The origin of our Logo: The six letters of CSIDEA form a cube, using the colors of red, gray and black to differentiate the letters. The red logo is for the website used in Taiwan and it's our registered trademark.

CSIDEA.NET

CSIDEA is a full-service web design company in Taiwan. We are here to provide you web design and branding services to help you expand your business and enhance your brand image or visibility in the market very rapidly. We are also specialized in e-commerce , print/ identity services and shopping site management, so we can help you maximize your website's functions and make your website stand out and become the most competitive and stunning one in your industry.
It has been 10 years since the CSIDEA design team entered the market of designing websites and e-commerce. We put in a lot of efforts in each of our design, hoping to meet each customer's needs and objectives perfectly through our designs. CSIDEA is a brand of design. Starting from web design and combining our design abilities and our specialty in database management with the latest marketing strategies, we are able to bring you the best online marketing package. We value the business model of professional divisions in our team, and focus fully in the quality of our design and customer satisfaction.